Austrian Documentary "Portrait of Wally" at Tribeca
New York: On April 28, 2012, at 5.30 PM, the world premiere screening of the new Austrian documentary by director Andrew Shea, Portrait of Wally, will take place at this year's Tribeca Film Festival (Apr 18 – Apr 29, 2012).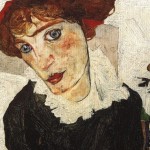 The film revolves around Egon Schiele's beloved painting, "Portrait of Wally", which was owned by Austrian art collector Lea Bondi when the Nazis seized it in 1939. For 70 years the Bondi family fought to reclaim the painting in a battle that pitted them against the Austrian government, billionaire art collectors, MoMA, and even NPR.
The screening will be followed by a discussion on issues of provenance and the global sharing of art in museums featuring director Andrew Shea, David D'Arcy, Jane Kallir Willi Korte, and Sharon Cohen Levin. Moderated by Monica Dugot, International Director of Restitution and Senior Vice President at Christie's.
VENUE: Tribeca Film Festival
SATURDAY APR 28, 05:30 PM
SUNDAY APR 29, 11:30 AM
For more Austrian cultural events visit www.acfny.org
Related posts:
Related posts brought to you by Yet Another Related Posts Plugin.
Print This Post