Event Highlights in May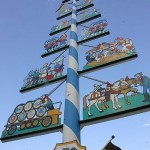 A selection of German, Austrian, and Swiss cultural events in North America.
More events listed in our nationwide online calendar.
Alabama
Until May 30, 2012: 100 Years of Von Braun: His American Journey
Exhibition about German scientist Wernher von Braun at the U.S. Space & Rocket Center
Arizona
May 2, 10 AM – 12noon:
German Short Film Festival 2012/ Location: University of Arizona/ILC 125
May 7, 6.30 PM
Phoenix Stammtisch – Nord im Mai 2012
Location: Elephant Bar (Scottsdale Rd – Mayo Blvd.)
RSVP to Thomas Bingel at  bingelt@gmail.com 
California
Northern California:
May 11, 6 PM: White Asparagus Gala Dinner hosted by the German-American Chamber of Commerce
Southern California
May 12, 7 PM: The Austrian "Ernst Krenek Ensemble" at Villa Aurora, Pacific Palisades www.villa-aurora.org
May 19, 2 PM: Grand Finals Concert of the Loren L. Zachary Society's Vocal Competition at the Wilshire Ebel Theatre, Los Angeles.  www.zacharysociety.org
May 27
Ringstrasse 1900 – Viennese Musical Salon organized by the Austrian-American Council West and Judith Hoffman of SZALON Gallery of Beverly Hills. For more details contact Ingrid Kern at  ingridukern@gmail.com  
Colorado
May 3, 7 PM – 9 PM:  Film Screening of "Vision – From the Life of Hildegard von Bingen". Pomegranate Place, Denver.
May 5, 7.30 PM
Wisdom, Light and Fire. The music of Hildegard von Bingen. At Christ Episcopal Church, Denver.
DC
May 8, 12noon: Deutsch am Mittag
Sprechen Sie Deutsch? Join the Goethe Institut in Washington DC for monthly lunchtime gatherings of those interested in hearing and speaking German. Each month, a special guest speaks on a topic. Organized by Irmgard Wagner.  www.goethe.de/washingtondc
May 9 – August 31: Daniel Libeskind Exhibition: Architecture for the Angel of History http://www.goethe.de/ins/us/was/kue/arc/en9087440v.htm
Until May 31: Exhibition "Helping Shape America": German Americans in the U.S. Congress from 1789 to the present. German-American Heritage Museum. www.gahf-usa.org
Illinois:
May 6, 3 PM: Bach & Beyond Spring Concert at DANK Cultural Center, Chicago. www.dank.org
Indiana
May 2, 7.30 PM: Artemis String Quartet from Germany to perform in "Indy  
New York
May 1 – June 26: Tribute to Romy Schneider. Film series at the Institute Française http://www.fiaf.org/calendar/calendar.asp?vw=2&evt=FILM 
Until May 2: KINO! – New Films from Germany at MoMA www.moma.org www.german-films.de
 May 3 & May 4: Nobel Laureate Herta Müller at PEN World Voices  http://www.germanworldonline.com/index.php/may-3-may-4-nobel-laureate-herta-muller-at-pen-world-voices/  
  May 12, 12 noon – 4.30 PM: Bier on the Pier – Maifest on Pier 81.  
 Pennsylvania
May 24: Sommerfest by "German Society Philly Kinder" at the German Society. www.germansociety.org
Texas
German Summer Classes. Registration now open. www.germantexans.org
 ———————————————————————–
Related posts:
Related posts brought to you by Yet Another Related Posts Plugin.
Print This Post