FIFA Women's World Cup: Match Schedule
The FIFA Women's World Cup matches will be shown on ESPN in the US on the following dates:
(Time in EST)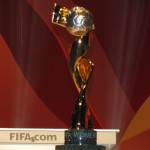 Friday, July 1
8:45 a.m. Japan vs. Mexico / Group B
12noon New Zealand vs. England / Group B
Saturday, July 2
7:45 a.m. Korea DPR vs. Sweden / Group C
11:30 a.m. USA vs. Colombia / Group C
Sunday, July 3
7:45 a.m. Australia vs. Equa. Guinea / Group D
11 a.m. Brazil vs. Norway / Group D
Tuesday, July 5
12noon England vs. Japan / Group B
12noon New Zealand vs. Mexico / Group B
02:30 p.m. France vs. Germany / Group A
02:30 p.m. Canada vs. Nigeria / Group A
Wedneday, July 6
11:45 a.m. Equa. Guinea vs. Brazil / Group D
11:45 a.m. Australia vs. Norway / Group D
02:30 p.m. Sweden vs. USA / Group C
02:30 p.m. Korea DPR vs. Colombia / Group C
Quarterfinals
Saturday, July 9
11:30 a.m. 1st Group B vs. 2nd Group A
02:15 p.m. 1st Group A vs. 2nd Group B
Sunday, July 10
7:30 a.m. 1st Group C vs. 2nd Group D
11 a.m. 1st Group D vs. 2nd Group C
Semifinals
Wednesday, July 13
11:30 a.m. Winners: Match 26 vs. 28
02:15 p.m. Winners: Match 25 vs. 27
Third Place
Saturday, July 16
11 a.m. Losers – Match 29 vs. 30
2011 FIFA World Cup Title Match
Sunday, July 17
2:00 PM. Winners – Match 29 vs. 30
———
Join the excitement and find a Soccer Viewing Party in your neighbourhood:
The Goethe Institut
The Goethe Institut in Boston, Los Angeles, and Washington D.C. will show some of the games where Germany or the United States is represented. Please check the websites for updates:
www.goethe.de/boston
www.goethe.de/losangeles
www.goethe.de/washingtondc
—–
Other locations where soccer viewing parties is offered
(Please check website or call since information is subject to change):
 
AZ:
Haus Murphy's, Glendale, AZ
www.hausmurphys.com
CA:
Rathskeller Pub, Huntington Beach, CA
Will be showing ALL games LIVE
www.rathskeller.us 714-894-6612
Red Lion, Los Angeles
www.redliontavern.net
Phoenix Club, Los Angeles
www.thephoenixclub.com]
Schroeder's Restaurant, San Francisco
www.schroederssf.com
Old World, Huntington Beach, CA
http://www.oldworld.ws/specialevents.html  714-895-8020
Sacramento Turnverein
www.sacramentoturnverein.com
Waterfront Café, Venice
www.waterfrontcafe.com
DC:
Fadó
808, 7th Street NW
Old Europe, Washington, DC
http://www.old-europe.com/events.html
FL:
Fritz and Franz Bierhaus, Coral Gables
www.bierhaus.cc  – 305-774-1883
Fritz and Franz Bierhaus, Ft. Lauderdale
www.bierhaus.cc 
Hofbräu Miami
www.hofbraumiami.com
Hofbräu Beer Garden, Panama City Beach
www.hofbraupcb.com
GA
Goethe Zentrum
www.goethe.de/atlanta
IL:
Chicago Brauhaus, Chicago, IL
www.chicagobrauhaus.com
Uberstein, Chicago, IL
www.ubersteinchicago.com
KY
Hofbräuhaus Newport
www.hofbrauhausnewport.com/ 
NV
Hofbraeuhaus Las Vegas
www.hofbrauhauslasvegas.com
NY
Bierhaus NYC
www.bierhausnyc.com
Der Schwarze Koelner
www.derschwarzekoelner.com
Lederhosen, NYC
www.lederhosennyc.com
Loreley, NY
www.loreleynyc.com
Zum Schneider, NY
www.zumschneider.com/
PA:
Hofbräuhaus Pittsburgh
www.hofbrauhauspittsburgh.com
Penn Brewery and Restaurant, Pittsburgh, PA
http://www.pennbrew.com/therestaurant.html
TX:
Bavarian Grill, Plano
http://www.bavariangrill.com/events.html
Friesenhaus, New Braunfels
www.friesenhausnb.com
Please visit website or call the venue beforehand since information might have changed after publishing.
Related posts:
June 8 – July 1: UEFA Euro 2012 Your interactive Tournament Calendar – Just a click away. From...
Related posts brought to you by Yet Another Related Posts Plugin.
Print This Post