Honoring the Man Who Nearly Killed My Father
German World readers share their stories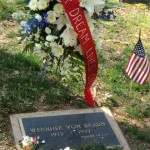 March 23, 2012, marked the 100th birthday of the German-born rocket scientist, Wernher von Braun. It is tradition in Germany to honor the centennial of the birth of noted cultural and political figures with song and celebration, and German-Americans carry on this tradition here. I was invited to join several members of the German-American community in an informal ceremony singing German songs at von Braun's gravesite in Virginia on this occasion. The decision to do so was not an easy one for me.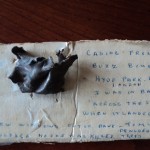 Always on display in the home in Minnesota where I grew up was an ugly piece of twisted metal that I learned was a piece of a V-2 rocket. This particular rocket had exploded in London's Hyde Park in 1944 and missed my father by a hair. He was serving in England with the 8th Air Force 100th bomb group, and came home safely after this, his closest brush with death. The V-2 was, of course, the work of the decorated Nazi Wernher von Braun and his fellow rocket engineers in Germany. Much of the work building these missiles, which caused indiscriminate death and destruction, was done by slave laborers.
Wernher von Braun is a complicated figure in the pantheon of prominent German-Americans. As one of the main architects of the American space program and the Apollo spacecraft, he is credited with putting man on the moon. His many accomplishments after coming to America were remembered and celebrated by NASA dignitaries in Huntsville, Alabama during his 100thbirthday week. But for me, the moral dilemma posed by honoring this man was personal.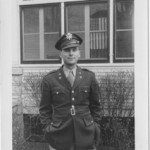 So I called my 94-year-old father. "Should I sing?" I asked him. My father thought a bit, not too long, and said that any time someone's life is remembered at their gravesite it is a good thing. "Go ahead and sing well", my dad said. And so I sang German folk songs in honor of von Braun, who himself was a lover of music and a composer.
While reading up on von Braun's life, I learned that there was another connection between this man and my father. Von Braun was born in Wirsitz (Wyrzysk), the very area of the German empire (today Poland) from which my father's grandfather emigrated in 1854. A peasant who sought a better life in America, he fought in the Civil War, earning him a homestead in Minnesota where he first lived in a sod hut. Von Braun was from an aristocratic family, and he often stated that he came to America because he believed the scientific knowledge he possessed would be best utilized by a free and democratic society. Both stories illustrate the varied contributions of immigrants to America. - By Myra Hillburg
Photo captions:
1) Gravesite of Wernher von Braun in  in Alexandria, VA.
2) Harold's fragment of the V-2 and description of the incident in London in 1944
3) Myra Hillburg's father, Army Air Corps Captain Harold Krinke, circa 1944.
 About the author:
Myra Hillburg is a member of the Washington Saengerbund and a  volunteer at the German-American Heritage Museum in Washington, D.C. – www.gahf-usa.org
————————————————————————————
No related posts.
Related posts brought to you by Yet Another Related Posts Plugin.
Print This Post