Myth, Style Icon, Tragic Figure: The Unforgettable Romy Schneider
Even decades after her death, Romy Schneider is still a captivating figure. Her aura, her myth still blaze on as if she never died. She has gone down in film history as a German-French world star, and the Sissi trilogy is not the only reason behind her fame. In France she was transformed from a shy, naïve teenager to the emancipated femme fatale, finding recognition here as a character actress. Her international success and turbulent life full of fateful blows elevated Romy Schneider to the pantheon of German-speaking film stars such as Marlene Dietrich and Hildegard Knef, who also became international sensations. Both in her professional and private life she pushed herself to the limit. Her legend was sealed when she died at the young age of 43. May 29, 2012  marked the 30th anniversary of the death of Romy Schneider.
Born in 1938 in Vienna as the daughter of the actor couple Magda Schneider and Wolf Albach-Retty, little Romy, whose name was Rosemarie Magdalena Albach, grew up with her grandparents in Bavaria. Later she attended a boarding school, and her parents divorced. Early in life she decided she also wanted to become an actress. And early on she received her first role: In the film Wenn der weiße Flieder wieder blüht (When the White Lilacs Bloom Again) the 15-year-old debuted at the side of her mother in 1953. The movie was a big success. In 1955 the shooting began for the historical film Sissi, which tells the story of the early years of the legendary Austrian empress Elisabeth. By this time Romy had starred in five movies, playing leading roles in two of them. She was already a star, but Sissi was to be the role of her life – a blessing and a curse at the same time.
Although the first of the three Sissi movies brought international fame to Romy Schneider and tremendously boosted her popularity in the German-speaking countries of Europe, she was reluctant to accept the leading role in the sequels. In the end, she acquiesced, but gained acting experience in other movies in the meantime. A fourth Sissi movie she successfully refused. She wanted to get away from the image of the darling teenager and escape the paternalism of her stepfather who acted as her manager. At the end of the 1950s she starred in the movie Christine together with the French actor Alain Delon. They were a couple not only on the screen but also became one in private. Romy turned her back on the German film industry and moved to Paris. The German public held this against her, and the critics berated her, refusing to accept the change in Romy Schneider. In a wild marriage with a Frenchman? Playing annoyingly brazen roles? None of this fit the Sissi image. In France, on the other hand, the journalists adored her. She worked successfully with Luchino Visconti, Orson Wells and Claude Sautet. In Los Angeles she starred in a movie with Jack Lemmon. While she found the professional recognition she had always wanted, her relationship with Alain Delon fell apart. Romy Schneider was devastated. She tried to take her life.
In the 1960s Romy met the director and actor Harry Meyen. They became a couple, and Romy moved to Berlin. Their son David Christopher was born. In 1968 they starred in the movie Der Swimmingpool together with her ex-fiance Alain Delon. The tabloids rejoiced and hoped for a rekindling of former feelings, as the movie with the breathtakingly beautiful Romy Schneider was suffused with eroticism. But a renewed romance failed to materialize. The movie was nonetheless a big hit, both with the critics and the box office.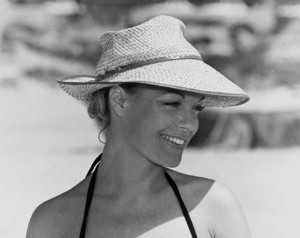 In the 1970s Romy shot films mostly in France – one film after another. She could choose between many offers and continued to play demanding roles: a German Jew on the run (The Train, 1973), a neglected wife who has an affair (Love at the Top, 1974), a rape victim (The Old Gun, 1975). However, she separated from Harry Meyen. A few years later he hanged himself, for which Romy blamed herself. In the early 1980s her marriage with her former private secretary Daniel Biasini also failed, and she started having problems with alcohol and substance abuse. She was quoted as saying: "I am an unhappy 42-year-old woman." A few months after this remark fate dealt her another huge blow when her son was killed in an accident in the summer of 1981. He was 14 years old. Despite this loss Romy Schneider started shooting another film. In The Passerby of Sans-Souci she showed her brilliance as an actress one last time. Romy died shortly after the completion of the shooting. She survived her son by one year.
The film world remembers Romy Schneider as a great actress. Around 25 million people worldwide have viewed the Sissi trilogy alone, which commercially ranks among the most successful German-language films of all time. This legacy, however, was a heavy burden for Romy, one she carried since the beginning of her career. She also had private problems and was dealt some heavy blows by fate. She was never really happy; her life was never fulfilled, stable or even consistent. One consistency, however, has emerged 30 years after her death: The myth of Romy Schneider shows no sign of waning. - gw/Ingo Ackerschott
Special Events
A special exhibition is on display at Kongresshaus Berchtesgarden from May 30 to October 25, 2012.  www.berchtesgadener-land.com/de/events/romy-schneider-ausstellung/
Exhibition in Cannes: July 2 – September 2, 2012, Palais des Festivals et des Congrès de Cannes http://romyschneider.heimat.eu/ausstellung.htm
More information at www.romy.de
————————————————————————————————————————————————-
Related posts:
Related posts brought to you by Yet Another Related Posts Plugin.
Print This Post