Positive Perceptions of Germany in the U.S. on the Rise
More than half of all Americans have a positive view of Germany, citing shared common values as a key plank of German-American relations, according to a survey of US citizens released on April 17, 2012. And the feelings are mutual. Separate surveys show that Germans overwhelmingly approve of both President Barack Obama and his foreign policies.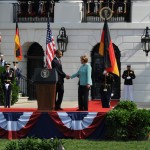 The survey of Americans, conducted on behalf of the German Embassy in Washington by consulting firm Frank N. Magid Associates, Inc. of New York between December 15 and 29, 2011, consists of responses from 1,517 individuals ages 18 and over. The affirming views of the US role in world affairs from the German side come chiefly from Transatlantic Trends, an annual inquiry conducted by the German Marshall Fund, which measures public opinion through interviews of around 1,000 people in each country surveyed.
Americans' positive views of Germany
A total of 55 percent of respondents, who were based across the United States, said they had an "excellent" or "good" overall impression of Germany, up from 48 percent in 2009, when the previous survey was conducted by Magid. That is higher than at any point in time since 2002, when Magid began conducting the series of surveys on Americans' perceptions of Germany for the German Information Center USA, the Embassy's public diplomacy department.
When it came to which countries share the most common values with the United States, Germany (53 percent) was the highest-ranking country where English is not the primary language, garnering fourth place after Canada (73 percent), Great Britain (69 percent) and Australia (56 percent).
A majority of respondents – 58 percent – moreover found that Germany plays an important role in international politics, up from 43 percent in 2009.
The same number of respondents – 58 percent – also agreed with the statement that Germany is "a major economic power." (Only 4 percent, by contrast, disagreed with this statement.)
As an important European ally, moreover, only Great Britain was ranked before Germany, which was also perceived as the country most likely to lead Europe out of the "euro crisis."
A total of 56 percent of respondents believed Germany played a positive role in the United Nations, compared to 42 percent in 2009. Another 47 percent of respondents believed Germany promotes peace and democracy throughout the world.
The role of the German military in Afghanistan was positively perceived by 32 percent of respondents (compared to 23 percent in 2009), and 27 percent of respondents believed Germany played an important part in the stabilization of Afghanistan.
In terms of taking historic responsibility for the atrocities committed against the Jews of Europe during the Second World War, 44 percent of respondents believed that Germany had done a good job in this regard, compared to 14 percent who believe Germany had not done enough to make up for this part of its past.
Germany was also widely perceived by Americans as a high-tech country. When asked whether Germany is a high-tech country, 58 percent of respondents agreed, a dramatic increase over 2009 (48 percent) and 2008 (51 percent), when the last two in this series of surveys were conducted. And an equally respectable number of 54 percent of respondents even agreed that Germany is the world's leading country in research and technology.
Almost a third of Americans questioned for this survey claimed to have good knowledge about Germany – up from 28 percent in 2009. Close to a quarter said they had visited Germany (24 percent have visited Germany at least once). The main reason (61 percent) for these visits was tourism or vacation. Among those respondents who had visited Germany, 58 percent perceived Germany and the Germans more positively (in the 2011 survey), up from 51 percent in 2009.
Read the full article here: http://www.germany.info/Vertretung/usa/en/newsletter/The__Week__in__Germany/TWIG__120427.html
Related posts:
Related posts brought to you by Yet Another Related Posts Plugin.
Print This Post