Switzerland Feeling in New York's Subway
From April 17 to May 12, NYC subway commuters have a chance to slow down the pace inside a shuttle train completely decorated with the majestic scenery of Switzerland including one subway car where commuters become passengers on Swiss International Air Lines (SWISS) while shuttling between the east and west sides of Manhattan.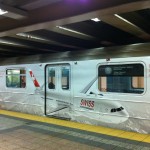 SWISS, a sponsor of this project with Switzerland Tourism, is showcasing its fuel efficient Airbus aircraft on a shuttle car designed with a relaxing atmosphere that SWISS provides in three classes of service from JFK International Airport and Newark Liberty International Airport.
From the NYC area, SWISS, Switzerland's national airline, offers four daily flights, (three from JFK International Airport and one from Newark Liberty International Airport), offering First, Business and Economy classes of service on each flight.
Reaching SWISS flights from Newark and JFK is also convenient from Penn Station in New York City where travelers can take the NYC Shuttle to the west side to reach Penn, then hop on the AirTrain to either airport. Starting today through May 12, commuters can turn their commutes on the Swiss shuttle into reality by participating in an online contest complete with weekly opportunities to win airline tickets, and more. To enter, visit www.my switzerland.com and correctly answer trivia questions about Switzerland.
During the week of May 7, be sure to participate for a chance to win two SWISS Economy tickets on SWISS.
For more information about SWISS, call 1-877-FLYSWISS, click onto www.swiss.com
Related posts:
Switzerland: News from the Jungfrau Region This summer the Jungfrau Region has a number of...
Related posts brought to you by Yet Another Related Posts Plugin.
Print This Post