The White Asparagus Season Is Here
Frühlingszeit – Spargelzeit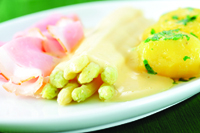 The hype about the coveted white vegetable starts up again in Germany at the end of April. By the end of the season, on June 26, approximately 55,000 tons of the vegetable will have been harvested. With a total value of 175 million euros, the slender stalks have become Germany's most important cultivated product over the years.
Although white asparagus from Mexico or California is available in the US almost throughout the year, its taste and texture does not reach the quality and aroma of its counterpart from Germany or France. White asparagus needs a specific combination of soil, temperature and rain in order to develop the perfect taste and has a long tradition of being grown in Baden-Wuerttemberg, Hesse or Alsace. More and more chefs in North America therefore import German, Austrian or French white asparagus during "Spargelzeit".  See list below.
How should white asparagus be cooked?
The best way is to cook it in boiling water for 15 to 20 minutes with some salt, sugar, and butter. Lemon juice preserves the white color. Strong spices and too much lemon juice in the stock spoil the fine asparagus aroma.
How can you tell if the asparagus is still fresh?
By the closed heads. The color of the root vegetable should be white and without any brownish discolorations. The ends of the stalks should be juicy when you squeeze them. The asparagus stalks should be firm and stocky, and the thinner the skin, the higher the value of the asparagus.
How long can white asparagus be kept in the fridge or freezer?
Wrap the unpeeled asparagus in a moist towel, and it will stay fresh in the vegetable drawer of your refrigerator for up to four days. Peeled and uncooked, it can be frozen for four to six months. Frozen asparagus should not be thawed, but placed straight into boiling water.
Which Wine to Serve with White Asparagus?
A delicious and tender spring dish, white asparagus can be a difficult to pair with wine. The natural bitter notes in asparagus make many wines taste vegetal and green.  We recommend a Blanc de Noir which compliments asparagus perfectly due to its moderate acidity and excellent fruit structure. Try the  Barth Blanc de Noir ($18.95) from the Rheingau or the Gutzler Blanc de Noir ($18.95) from Rheinhessen.  Available at www.trulyfinewine.com
Recipe:
A classic: White Asparagus and Sauce Hollandaise
For four persons you need
250g butter, 3 egg yolks, 3 spoons of water, 1 spoon of lemon juice, salt, white pepper and cayenne pepper. Melt the butter in a pot, but do not cook it. Put egg yolks in a pot with lemon juice, water, and salt. Place the pot in a hot water bath and stir with a whip or electric mixer until the mass is creamy. Take the pot out of the water bath so the sauce does not congeal. Slowly, add the melted butter while stirring constantly. Add salt, pepper and cayenne pepper to taste, and serve immediately.
Who serves white asparagus from Germany, Holland or Austria  in the US?
California
Hans Röckenwagner – 3 Square Café in Venice
Restaurant Lorelei at The Phoenix Club in Anaheim
www.thephoenixclub.com
Camp Virner, Georgetown
Colorado
Harald Neuweg – Wienerstube in Aspen
D.C.
Alexander Herold – Old Europe
Florida
Barbara Hutto, Bauernstube in Orlando
Illinois
Römertopf in Mascoutha
New York
Kurt Gutenbrunner – Wallsé
Texas
Walburg Restaurant in Walburg
No related posts.
Related posts brought to you by Yet Another Related Posts Plugin.
Print This Post