World Premiere of ENCOUNTERS by Austrian Composer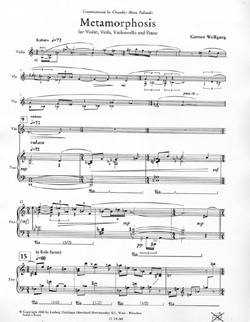 Austrian Composer Gernot Wolfgang's ENCOUNTERS will celebrate its world premiere this Wednesday, March 10th 2010.
Violinist Sara Parkins and bassoonist Judith Farmer will perform the world premiere of ENCOUNTERS.
Also on the program will be Wolfgang Gernot's piece for bassoon & contrabass, LOW AGENDA, which will be performed by Judith Farmer and contrabassist Nico Abondolo.
Bela Bartok's "44 Duos" (selections), Francois Couperin's "Duo for 2 Bass Instruments in G Major" and Tom Johnson's "Failing – A very difficult piece for solo Double Bass" will round out the concert program.
This set will be followed by a performance by opera singer Rachel Staples and hang drum musician Bruce Cana Fox.
John Henken from the The Los Angeles Times called it:
" … a striking piano quartet by Gernot Wolfgang … His compelling solutions in Metamorphosis sounded neither forced nor artificial. At its core, the piece is a wild minor swing with Balkan Gypsy gestures and rhetoric."
Nis Kildegaard from the Vineyard Gazette (Martha's Vineyard) wrote:
" … a strikingly muscular and momentum-filled piece of music … for many the highlight of a wonderful musical evening … surprising, sometimes jarring – but never incoherent and never unmusical."
And Andreas Felber from JazzZeit

" Metamorphosis fuer Streichtrio und Klavier gefaellt durch ein expressives, ideenreiche Wandlungen durchlaufendes Violin-Thema … "
World Premiere of ENCOUNTERS by Wolfgang Gernot
The doors will open at 7 pm.
Wednesday, March 10, 2010
7:45pm – 10:00pm
The Loft at Liz's
453 S. La Brea Avenue
Los Angeles, CA
Admission:
$15 at the door or
$10 if you bring a dish or beverage to share
Parking:
After 7pm on La Brea or 6th Street.
No parking on the side streets WEST of La Brea, EAST of La Brea ok.
No parking in the alley.
The Loft at Liz's is part of Liz's Antique Hardware at the same address. For questions call (323) 939-4403 ext. 6, or email jason@theloftatlizs.com
No related posts.
Related posts brought to you by Yet Another Related Posts Plugin.
Print This Post